Episode 3 – Christmas, Energy Drinks, Pitch, Guitar Pedals, and Do-it-yourself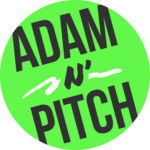 It's a new year and Adam N' Pitch are back at it with their 3rd episode! They're all over the place talking about energy drinks, pizza, business, Pitch, guitar effects, music lessons, and other stuff. Thank you for hanging out with us!
01:08 – It's Christmas season!
01:21 – Pitch is a really good singer.
01:29 – Can't tell if I'm being truthful or sarcastic…
04:49 – Energy drinks
07:23 – Coffee had too much acidity for Adam.
08:22 – San Diego has the best burritos!
10:01 – Diet drinks can contain Aspartame
11:04 – Then Bangs came out…
11:52 – Pitch thought Adam stopped energy drinks???
12:47 – Adam stopped because of the cost.
14:25 – I don't think people think about what they put into their body…
15:05 – Everyone has a different lifestyle and budget.
15:17 – Adam talks about working remotely.
16:58 – Pitch's work situation.
17:35 – Book Pitch today as a music performer for event or business!
17:54 – Pitch teaches music lessons to all ages, learn to sing and/or play and instrument!
18:01 – You can even record at Pitch's studio!
18:55 – Pitch got his music degree from the best, Berklee College of Music
20:39 – A lot of people in the music industry move into different fields eventually
22:36 – Online teaching has a big audience, could be a good direction for music educators
23:29 – Why we're making a podcast, diversifying our skill sets and interests.
27:05 – Pitch doesn't want to DIY, but Adam is all about the DIY… Adam talks about making a pedal board.